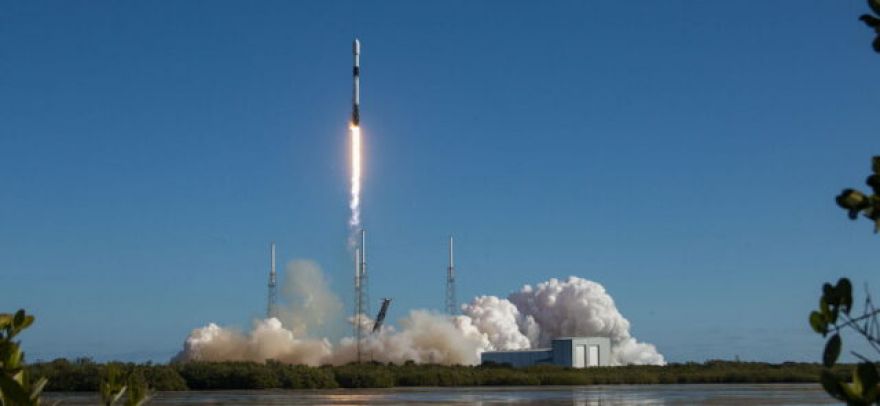 This Week in Space: Orion, Tomatoes, and the Wolf Moon
Hello readers, and Happy New Year! Welcome to the first edition of This Week in Space of 2023. It's the twelfth day of Christmas — and the first full moon of the year, the Wolf Moon, rises tonight. And TGIF, am I right?
Today, we've got updates from the Artemis project, and a fun video excursion to space and back with a Falcon 9 rocket. But this week also held an event of what could be singular importance, as Sen. Richard Shelby (R-Al), Chairman of the Senate subcommittee that controls NASA's budget, has stepped down from office.
Orion Spacecraft Returns to NASA for "De-Servicing"
After Artemis 1, the Orion capsule splashed down in the Pacific Ocean on Dec. 11. Then it spent two weeks making its way from Naval Base San Diego in California to the KSC's Multi Payload Processing Facility. Orion carried several tons of assorted Science Stuff™ into orbit. Now, it's time to unpack.
Beyond the Astronaut Snoopy plushie, Girl Scout badges, pins, flags, patches, and other whimsical flotsam in Orion's legally ordained (PDF), Orion carried three important passengers to orbit. , one male and two female-bodied, wore and carried new safety gear that NASA is field-testing for the next generation of Artemis astronauts. We'll know more about the results once NASA releases them.
Mission technicians are also going over the Orion capsule, removing the "" for further analysis. The Artemis team is also carefully setting aside the parts and components from the Orion capsule they'll be using for Artemis II.
Senator and Space Policy Power Broker Richard Shelby Steps Down
While NASA is unpacking Orion, Sen. Richard Shelby (R-Ala) is packing up to depart the Senate. Shelby was the Chairman of the Senate Appropriations Committee, which controls NASA's budget, and he was instrumental in the development of the Space Launch System rocket and the Orion capsule. He also fought for decades to bring aerospace jobs — and money — to Alabama. In 2019, after then-NASA administrator Jim Bridenstine suggested that a Falcon Heavy could do the SLS' job faster and cheaper, Shelby dressed him down for committing political sacrilege. Now that Artemis 1 has taken flight, Shelby has handed off the baton.
Artemis 1 launches from pad 39B at NASA's Kennedy Space Center. Image: NASA/Joel Kowsky
It's hard not to have mixed opinions about the SLS. The project has certainly delivered as a jobs program. "The program is an economic engine for America," said former senator and current NASA administrator Bill Nelson. "In 2019 alone, it supported 70,000 good-paying jobs across the country." But it has also kept NASA from contracting much less expensive private-sector launch services, and then turning around and spending the rest of the budget paying more Americans better wages to develop hardware and software for the deep space exploration NASA does very well already.
Now that Shelby, one of the SLS' staunchest advocates, has stepped down, it's not clear how United States space policy will change. Since the inception of NASA, the agency's Marshall Space Flight Center has been (and will doubtless remain) an indispensable part of American space flight. But without Shelby's advocacy, the SLS itself may not have the same sympathetic audience in Congress.
Ride to Space (and Back!) With This Falcon 9
SpaceX, meanwhile, has occupied itself with launching dozens of satellites into orbit. Tuesday of this week, during a flight called Transporter-6, the company fielded some 114 different smallsats and orbiters, including a few dozen for the Starlink fleet. Also aboard Transporter-6 were 36 Planet SuperDove high-res visible-spectrum imaging satellites, which provide data for environmental monitoring groups and the US government's intelligence agencies. But a few of the SuperDove satellites brought a more warmhearted element to the skies. According to Planet, five of the SuperDoves are engraved with artwork and quotes, en homage to Star Trek creator Gene Roddenberry.
After the launch, the first stage hied itself back to Canaveral's Landing Zone 1. Tuesday's flight was no. 15 for the Falcon 9's first stage — tail number B1060 — tying a SpaceX reusability record. It was also SpaceX's 200th launch. In celebration, the company put up a video of Tuesday's launch and landing on YouTube, from the rocket's point of view.
Onboard view from Falcon 9's flight to space and back during smallsat rideshare mission

— SpaceX (@SpaceX)
In Praise of Space Tomatoes
It takes a lot to become an astronaut. To go to space, NASA requires that astronauts be , in addition to falling within a strict range of physical characteristics including physical fitness and standing height. (Only those between 5'2″ and 6'3″ need apply.) But recent blog posts from the International Space Station have really called attention to the way that ISS astronauts and cosmonauts have to become polymaths to prosper there.
In addition to being a regular Renaissance woman, Cmdr. Nicole Mann is also absolutely *slaying* in that hideous Ugly Sweater. Shine on, you crazy diamond. From left, NASA astronauts Josh Cassada, Nicole Mann, and Frank Rubio, and JAXA astronaut Koichi Wakata. Image: NASA
Within the last four weeks, the folks aboard the ISS have performed and/or studied, : phlebotomy, chromatography, botany, physics, immunology, microbiology, ergonomics, polymer chemistry, and . And that's a conservative list. Then there's the spacesuit maintenance, the spacewalks, and piloting the ISS itself. It's a little surreal. Everyone on the ISS is studying things like bone density maintenance, the coarsening and coalescence of foams, and futuristic piloting systems — all with an eye toward putting humans on Mars. And all the while, they're also taking turns watering a little patch of dwarf tomatoes. For science.
NASA Formally Asks SpaceX Whether It Can Bring Home Astronauts Stranded in Space
After a coolant leak from the Soyuz MS-22 capsule currently docked with the International Space Station, an astronaut and two cosmonauts are stranded in space — sort of. Last September, NASA astronaut Frank Rubio and Roscosmos cosmonauts Sergey Prokopyev and Dmitri Petelin rode to the ISS aboard the Soyuz MS-22 spacecraft. Then, on Dec. 14, the capsule .
Earth observation taken during a night pass by the Expedition 49 crew aboard the International Space Station (ISS). You can see Soyuz in the foreground here, with Progress in the background, solar-panel wings aligned with the horizon.
Looking closer, the ISS crew found a hole with "" that looks like a possible micrometeoroid impact punched right through into the capsule's external radiator cooling loop. If the Soyuz capsule is inoperable, its passengers have no obvious way planetside before March, when Russia can scramble an uncrewed Soyuz capsule to bring them home. This week NASA formally approached SpaceX about in a Crew Dragon capsule. However, right now the agency says it's mostly focused on working with Roscosmos to find out what the Soyuz MS-22 can do in its present condition.
Skywatchers Corner
January is such a great time for stargazing because the bitter cold makes for beautifully clear skies. If you've got dark skies (and can bundle up enough), sometimes the coldest part of the winter is the best for stargazing. If it's cold enough aloft, the moisture will freeze right out of the air, leaving the skies with an ethereal clarity and sharpness. Unfortunately, tonight is a full moon, so the glare might interfere with skywatching.
January's full moon is called the Wolf Moon, according to the Farmer's Almanac. But this full moon is also a so-called "micromoon," the opposite of a supermoon. Luna is currently at its farthest point from Earth, so it looks its smallest.
All through this month, we'll have a "planetary parade" to look forward to, with five planets visible in the sky at the same time. But we're also treated to a visitor Earth : a rare called C/2022 E3 (ZTF). The last time this comet came 'round, it was the time of the Neanderthals. Now modern eyes will have another chance to see it.
Feature image courtesy of SpaceX.
Now Read: